tengok tajuk pon dah tau kan agak2 baby nak citer ape kan..
so.. nie update dari entri yang lepas macam yang baby janjikan..
The Golden Disk Award 2013 - Day 1.
program mula dengan acara Red Carpet.. artis Korea dibawa masuk ke bahagian Red Caret dengan kereta MPV mewah. (tak sure Alphard or tak.. tapi model Toyota). meluangkan masa selama lingkungan 5 minit untuk media dan peminat amik gambar mereka.. kemudian mereka beredar untuk sidang media..
Opening show daripada
Nicole (KARA) dan Yong Hwa (CN BLUE)
. sorry sangat-sangat sebab baby terus terang cakap baby memang tak tahu apa tajuk lagunya.. tapi dari maklumat yang baby dapat, tajuk lagunya ialah
Because of You (Song Cover)
. habis menyanyi, mereka berdua ke rostrom dan bertindak sebagai pengacara majlis bagi hari pertama. mereka banyak menggunakan bahasa Hanguk (Korea) dalam penyampaian cuma ade sedikit selingan bahasa Inggeris dari Nicole terutama apabila memperkenalkan kategori yang dipersembahkan.
Dior: Faham ke?
Baby : Ho ho ho.. I need subtitle right now. not event a single words that i understand
.
Dior : habis orang dok jerit tu faham ke??
Baby : haha.. i dont know.. but they do scream at the right time.. haha.. yang penting Confident
(hahaha.. selingan dialog baby dengan Dior mengenai bahasa yang dipersembahkan)
Style penyampaian di sini ialah.. penyampaian anugerah.. kemudian diikuti dengan persembahan dari pemenang.. haa.. macam tu.. amik awards, bagi ucapan.. then perform.. simple kan?? cuma Anugerah Istimewa je mereka tak terus tampilkan persembahan dari pemenang.. WHY?? kejap lagi baby jawab..
so.. ini list pemenang pemenang bagi hari pertama

- Super Junior "Sexy Free & Single"
▲
Best Dance Performance Award
▲
Best Group Performance Award
▲
Next Generation Star Award
▲
MSN Southeast Asia Award
- Super Junior "Sexy Free & Single"
▲
Malaysia's Most Favorite Star Award
▲
Golden Disk Producer Award
- Han Sung Ho (FNC Entertainment)

List persembahan pada hari pertama

mengaku kat sini.. baby taklah fanatik Kpop macam mereka yang pergi.. tapi baby tau jugak la sikit sikit pasal Kpop nie.. and tau jugak sikit-sikit lagu lagu mereka.. and yes~!! i can follow & sing together some of the song that they perform but of course the words, pronounciation tak mungkin la sama kan.. al maklumlah baby ni lidah melayu... huu..
Performance yang Meletop (personal view)
bagi baby, FT Island buat pilihan lagu yang menarik and baik... lagu yang agak catchy seperti
Severly
dan
I WIsh
membuatkan ramai yang menyanyi bersama-sama dengan mereka.. Band Group tak tertumpu pada tarian, jadi ade peluang bagi vokalis untuk all out bersama dengan peminat. Jujurnya, baby yang baru first time dengar lagu nie pon tiba-tiba minat lagu ni.. and enjoy the performance.
Super Junior.. agaknya baby memang tak perlu nak perkenalkan lagi.. memang ramai dak kenal dan tau corak persembahan mereka. lagu yang dibawakan oleh mereka juga diketahui ramai.. itu bagaikan satu advantage bagi mereka.
Bonamana, Oppa Oppa dan Sexy, Free and Single
tentunya ditunggu oleh
ELF
dan peminat KPop lain untuk menyanyi dan menari bersama.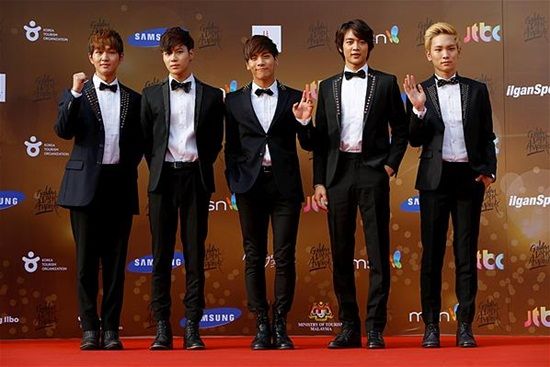 Shinee pon rasanya baby tak perlu nak cerita lebih lebih.. lagu
Lucifer
dan
Sherlock
. ramai yang melompat-lompat, menari, dan menyanyi bersama dengan mereka.
"Aku Cinta Kamu Semua ~!!!!!"
walaupun cuma perkataan mudah.. namun mampu membuatkan mereka yang berada di Sepang F1 Circuit melonjak gembira.. nice capture Oppa~!!
itu sahaja ulasan bagi Hari Pertama The 27th Golden Disk Award di Sepang F1 Circuit .. gonna update ulasan untuk hari kedua nanti.. nanti kan ye~!!